i2C

work with SYNNEX on Oakleigh DC
i2C have been engaged by SYNNEX to design SYNNEX's new regional head office with fully automated high bay stacking system and distribution warehouse.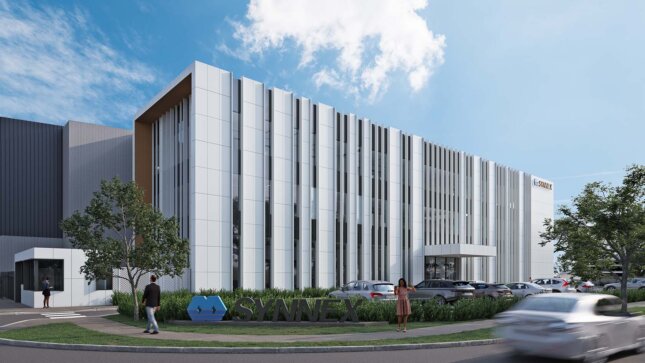 The SYNNEX relocation and innovation project is the regional update of the SYNNEX global supply chain. From Taiwan, though South East Asia and the Americas, SYNNEX are at the forefront of information technology equipment supply with SYNNEX and their logistics arm delivering for key sector partners. The new distribution hub rests on a prominent corner of an existing industrial hub with easy access to and from major freeway routes. This facility has been lodged for town planning and is designed as a major upgrade to the existing SYNNEX supply hub historic paper mill.
Once completed this project will incorporate a head office over three levels and 3,000m2 with direct access into the warehouse for management at both the ground and first floors. The internal Automated Storage and Retrieval System (ASRS), the heart of the automation of the facility is located within a 32m high warehouse with a gross floor footprint of 4,300m2. This ASRS is currently designed for the storage and retrieval of full pallets of goods which are received from either the on grade loading dock or recess tail dock. The storage unit is fed by an intricate network of both receiving and dispatch conveyors over three floors to aid in the efficient transport of both received and purchased goods to and from the warehouse. The warehouse unit is over three floors of both racked and unracked process areas for a total of 24,500m2 of assignable space.
Due to the location of the site being ideally situated adjacent to an existing Stockland warehouse precinct, the head office is given unparalleled exposure to the delivery cycle of the facility from Centre Road. The overall bulk mass of the building is set back from the road by the extensive delivery apron catering to both B-Double and 19m articulated trucks.
Town planning for the site had been submitted to council with construction expected to start in 2022.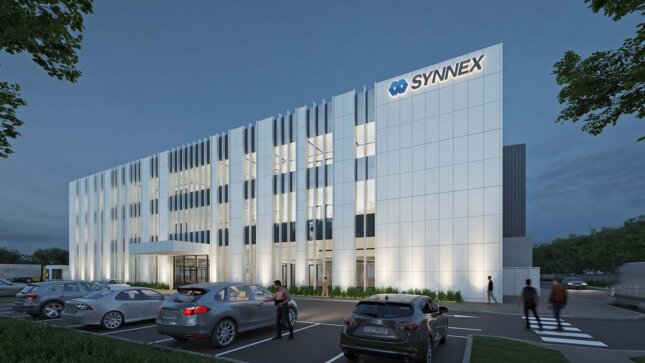 Zachary Marshall
Project Architect